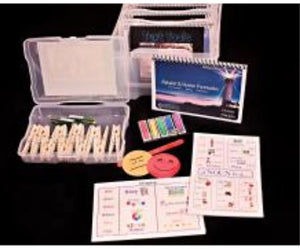 Pick up in office only, no shipping.
Are you looking for a hands-on tool box full of reading comprehension, grammar and writing tools for your students? Text Tools are the tangible "tools" to place into students' hands to encourage them to get their hands (their thinking) into the text, much like mechanics use their hands to work magic on an engine. With this plethora of tools, your students will find themselves going deeper while reading narrative and informational text. you'll find tools such as a narrative and informational text map, a text features tool, a tool for encouraging students to locate textual evidence, and many more. An additional set focused on grammar and writing support students in their understanding of how parts of speech not only aid in writing but support comprehension as well. 
There are two different levels of boxes
K-1st grade 
2nd-5th grade 
The prices have been reduced from $60 to $30 and no more of these will be produced- so inventory is limited!