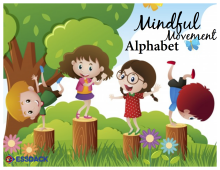 Young children need exercise for physical health, but exercise can also promote social-emotional well-being. Mindful Movement exercises help children control their bodies, relax their minds and develop self-calming skill through deep breathing. In addition, these activities promote the development of executive function by targeting working memory, inhibitory control and cognitive flexibility.
With this set of cards, children get all the benefits of Mindful Movement while working on their alphabet knowledge.


For pre-school through first grade.

This is a single-user license. It authorizes the individual the right to use this presentation in the classroom. For building licensing, send request to contactus@essdack.org.