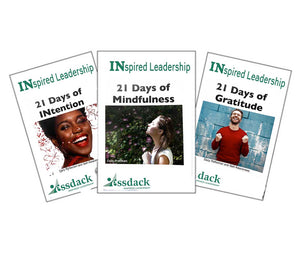 Save $$ by getting all three 21-Days of Challenge Journals together!

21 Days of Intention: This guide asks you to examine your values, judgments and thoughts for the next 21 days and reflect how they are impacting your life experiences.
21 Days of Gratitude: Write down three things you're grateful for each morning or each night before bed. Write an email, letter, or text to someone expressing genuine gratefulness. Express thanks for something difficult in you life. Take this three-week challenge to make an impact by saying thank you!
21 Days of Mindfulness: People who have a lot going on in life would benefit from a mindful practice. Benefits include decrease in stress levels, better sleep, increased focus, and mental clarity.

Take a Cold Shower. Smile when you Wake. Pause in your Car. Listen to Hear. These are a few of the practices in this three-week mindfulness challenge journal. Relax, enjoy and slow down...
www.ventureinspired.org